WHAT IS THE BEST GEL EYE MASK FOR DARK CIRCLES?
HOW TO REDUCE DARK CIRCLES UNDER-EYES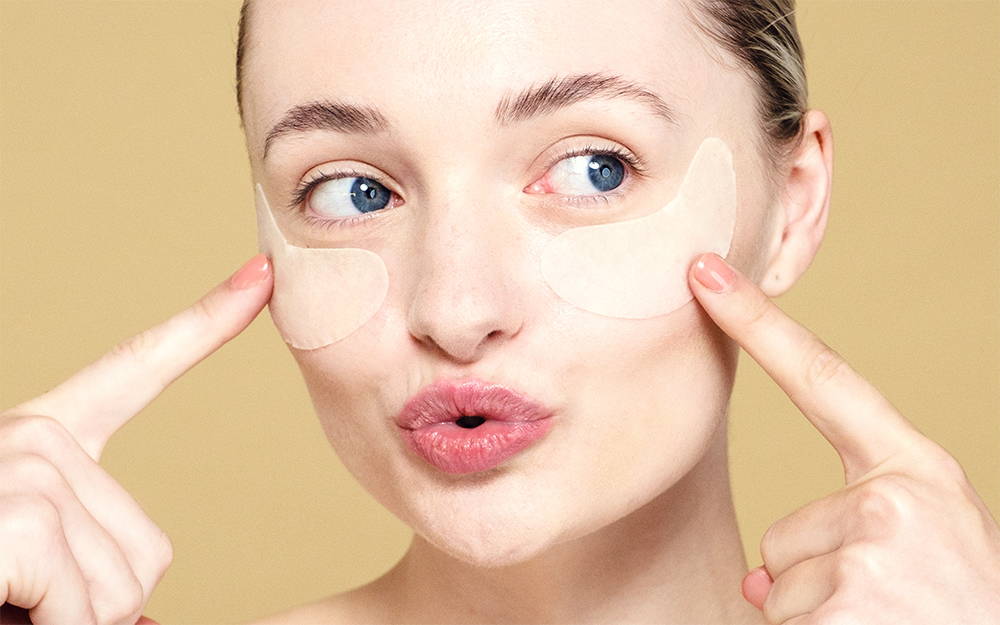 Are you tired of looking tired? It's time to wake up looking & feeling fresh. So, how do you get rid of dark circles?
The answer: a gel weekly eye mask made with Arnica extract.
You've probably heard of this perennial herb before, but we've made it extra effective.
Arnica's naturally magical properties have been used for centuries. However, within the past few decades, with the help of science and our innovative team, we know it'll stand the test of time to banish your dark circles.
In fact, Arnica is widely acknowledged for its superpower ability to reduce bruising, pigmentation, and dark spots. In other words, arnica can reduce dark circles under-eyes.
You may have seen Arnica used in beauty products before, here's some examples…

Arnica creams
Arnica gels
Arnica gel eye masks
But we've done things a little differently, formulating our Arnica eye mask with uniquely effective and powerful ingredients. Welcome to our Rescue Revive Eye Mask from Herbal Essentials.

Our mask is the best gel eye mask for dark under-eyes. It includes three all-natural and plant-powered ingredients. They are:

Arnica extract
Provitamin B5
Chamomile
When you use this power trio, a myriad of benefits can be yours for the taking. Here's a few things you'll notice and feel your under-eyes are:
Brighter
Hydrated
Plump
Rested
Soft
And international celebrity makeup artist, Caroline Barnes, agrees with us:
"I love Herbal Essential Masks...Once you've used these, you'll feel that your skin is really hydrated and really, really soft"
But let's address the question on your mind...
Looking to incorporate Arnica into your skincare routine? Let's get to know this perennial herb first...
Arnica extract is created from a flowering plant, or perennial herb, that looks very similar to a yellow daisy. Which is how it got it's nickname — the mountain daisy. But there are other names arnica goes by such as:
Arnica montana
Mountain tobacco
Wolf's bane
While Arnica Montana is arnica's Latin name, the name "mountain tobacco" comes from European mountaineers who were known to smoke the flower petals from this plant.
Arnica grows wild within the countries of North America, Europe, and Siberia. And once it's been harvested, it's turned into an essential oil or extract. Then, added as an active ingredient to:
Masks
Gels
Creams
Carrier oils
Tinctures
Ointments
It's even recommended by doctors! They prescribe Arnica in the form of arnica pills and arnica tablets to decrease bruising after surgery.
However, it's very important to note that you should only take arnica orally when prescribed by a doctor. Arnica must be properly diluted and the dilution process should only be performed by a professional. We told you, it's powerful!
Don't worry, Arnica is perfectly safe when applied topically and away from open wounds.
But as with any new product, a patch test is always a good idea if you're weary. To perform a patch test, simply follow these steps:

Apply a small amount of product on the back of your hand
Leave it on for 10 minutes
Look out for any itchiness or redness in the next 24 hours
If you don't experience an allergic reaction, then arnica is a perfect beauty fit for you! (and your dark circles).
So, let's get into the good stuff. How does our arnica gel eye mask reduce dark under-eyes?

The Uses and Benefits of Arnica
(Homeopathic Remedy) For Dark Under-Eyes
Arnica is not just a new-age homeopathic remedy. It's been harvested and prepared for centuries due to its undeniable qualities. For example, arnica can:

Heal bruising/discoloration
Reduce puffiness
Decrease puffiness
Soothe allergy symptoms


Banish Dark Circles Under-Eyes and Curb Eye Puffiness
Arnica is well-known for its anti-inflammatory qualities. In fact, it's widely used by doctors in the after-care of post-surgery patients.
Did you know? It reduces puffiness by stimulating blood flow and proper blood circulation to the areas it's applied.
As a result of the enhanced blood flow, white blood cells are able to heal damaged areas and reabsorb bruising. Here's where it gets good… it lessens the appearance of dark circles under-eyes and heals the vulnerable tissue as well.
If that's not enough, the increased blood flow can help with pain relief and provide a soothing effect. Making our arnica gel eye mask perfect for those long nights that leave you with swollen tired eyes.
Or, if you get those annoying seasonal allergies that cause itchy and irritated eyes, arnica helps revive and refresh that sensitive under-eye area by flushing out histamine (the by-product of allergies).
In other words, arnica is an all-natural plant-powered ingredient that's definitely worth a try if you have under-eyes that are:


The Best Place to Find an Arnica Gel Eye Mask? Look no further than Herbal Essentials
So, now that you know all the amazing benefits of using arnica, we're willing to bet you can't wait to use it in your weekly routine.
And you might be wondering…
Where do you get the highest-quality arnica? (without breaking the bank)
At Herbal Essentials, we are proud to offer our affordable and superior arnica gel eye mask. If you don't believe us, here are a couple of 5-star reviews for our Rescue Revive Eye Mask:
"The best eye mask I've used for instant effect. Under eyes are much softer, plumper and hydrated, a really noticeable improvement and its 99% natural & cruelty-free! Love this brand." - Ali
"I'm always in front of a screen and so my eyes get tired really quickly and can feel bags starting to appear. I saw the price of these and thought they are worth a try and I'm so glad I did! After the first use, my eyes felt more awake and brighter! I've now bought a box of 8 so that I can use them more often." - Kelly Mc
Bonus: If you're more focused on providing hydration and firming up your under-eye area than reducing dark circles, our Hydrating (Firming) Eye Gel might be exactly what you need. It's clinically proven to increase hydration by 184%!
Herbals Essentials Offers the Best Gel Eye Mask to Eliminate Your Dark Under-Eyes
You don't have to wake up with unwanted dark under-eyes. Because we can provide you with an eye mask that eliminates dark circles — with the help of arnica extract.

But we don't stop there.
Along with arnica, our gel eye mask includes provitamin B5 and chamomile. Creating an effective eye mask gel that targets all of your under-eye problems with a weekly application.
In fact, our Rescue Revive Eye Mask offers multiple benefits such as:
Diminished eye puffiness
Reduced under-eye darkness
Hydrated and plump under-eyes
So, are you ready to experience life without dark-circles? Look as good as you feel with the naturally hydrating powers of Herbal Essentials and try our Rescue Revive Eye Masks for yourself.
Interested in who we are? Feel free to come on over and take a peek at our story.