2 Simple Tips to Deeply Hydrate and Promote Dewy, Glowing Skin...
Let's face it, there's nothing like a glowing facial complexion. Because dewy, bright, and glowing skin radiates natural beauty.

That said, shea butter has been around for centuries because it is know to provide all-natural care for your skin and has numerous benefits such as:


• Superior hydration
• Protection against visible signs like fine-lines and wrinkles
If you're like us, you'd love to flaunt "I-woke-up-like-this" skin. Actually, it's safe to say that's something we all want. But it's easier said than done, or is it? And the question still remains…
How do to get glowing skin that looks so naturally-healthy?

The answer: HYDRATION. In fact, you can start providing super hydration & nourishment today by following these simple tips:
1. Find a high-quality and all-natural moisturizer
2. Use it daily
It's that easy.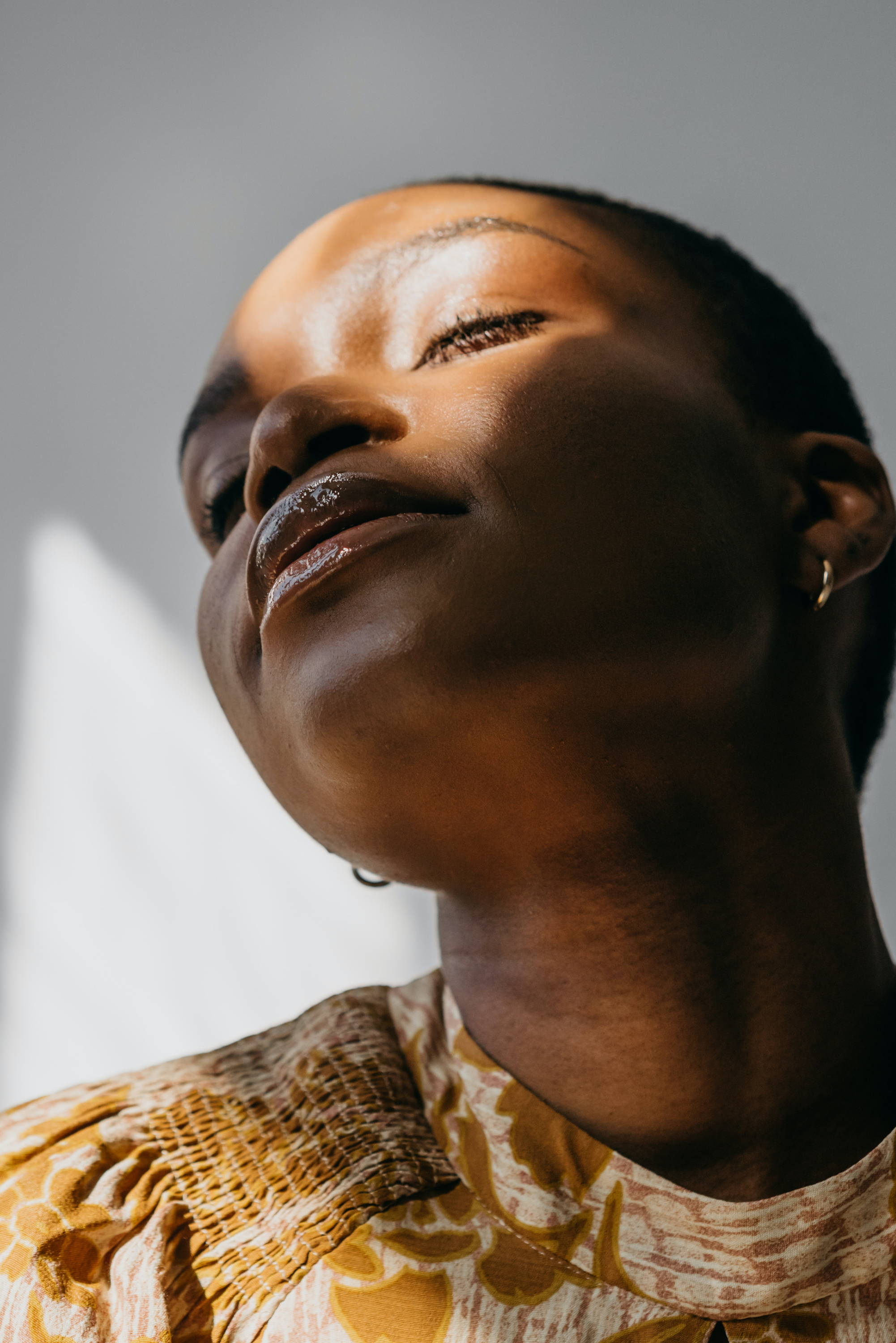 The hard part is researching and discovering the best moisturiser for your skin. Plus, mustering up the willpower to apply moisturiser at least once a day. However, we've done the hard part for you. While there are hundreds of ways to moisturise, shea butter is one of our favourites. And that's why we've created a facial moisturiser with shea butter as one of the main ingredients.
That said, shea butter has been around for centuries because it provides all-natural care for your skin and has numerous benefits such as:


• Superior hydration
• Protection against visible signs like fine-lines and wrinkles
• UV protection
And the best part?
You can start nourishing your skin immediately with Herbal Essential's shea butter moisturiser and experience dewy, glowing skin everyday. Sounding like your skin goal? Furthermore, our Get Up & Go Cream has dozens of outstanding reviews and is clinically proven to increase your skin's hydration by 84%. However, let's dive into our first tip for glowing skin — hydrate & nourish with high-quality and all-natural moisturisers.
HOW CAN YOU HYDRATE & NOURISH YOUR SKIN?
FOR STARTERS, ADD SHEA BUTTER TO YOUR SKINCARE ROUTINE...
Due to the vast number of natural oils and butters available, trying to find the right natural skincare product and moisturiser can seem too much hassle. Because how do you know which moisturiser to choose when there is so many options available such as:

• Olive oil
• Coconut oil
• Rosehip oil
• Shea butter
While all these oils are great options, we highly suggest using a shea butter moisturiser. Shea Butter Is Extremely Hydrating and Provides All-Natural Care for Skin.
Shea butter is a well-known ingredient in the clean, natural beauty world. But its origins and skin nourishing properties are lesser-known.
To start, shea nuts come from the African shea tree. Shea nuts are wild-growing and have been harvested for centuries from West and East Africa. And you guessed it. Shea butter is made from these shea nuts. Unsurprisingly, shea butter has a butter-like consistency and stays solid at room temperature. Although, it melts down easily over a double-boiler or between your hands.


But more importantly, shea butter is 60% fat. In fact, shea butter contains these fatty acids:

• Oleic acid
• Stearic acid
• Palmitic acid
• Linolenic acid
And as a result of its high fatty acid content, shea butter can:


• Deeply penetrate the skin and lend hydration to all layers of the skin — not just the epidermis (the top layer)
• Promote healthy skin cell formation and protect the skin's natural oils
• Extra-soften and smooth the skin
But that's not all it does. Not only does shea butter offer supreme hydration, it deeply nourishes the skin as well.
Shea Butter Prevents also Curbs the Damage Caused by Skin Inflammation
Plus, this butter has serious power to promote healthy-looking skin. Find shea butter's components and their benefits below:

• Vitamin A: known to speeds up skin renewal
• Vitamin D: known to regulate healthy skin cell function and eliminates excess water
• Lupeol: known to help prohibit enzymes from breaking down and degrading your skin's proteins
Furthermore, the cinnamic acid found in shea butter is known to offer UV protection from damaging UV rays that greatly increase your chances of visible signs such as:

• Wrinkles
• Age spots
• Fine lines
With that said, have a look at the 5-star reviews from our customers. They boast of amazing results simply by including our shea butter moisturiser in their skincare routine:
"This is a really nice day cream. Nice little pump container that dispenses as needed. Less is more and the cream is rich and satisfying. Left skin feeling great"
"I have sensitive skin and this cream didn't cause any reactions. It moisturized without clogging and my skin felt good even after a cold wet walk with the dog. It's much more expensive than my usual cream but I find I need to use far less of it. A little goes a long way. This is my first Herbal Essentials product and it feels authentic good quality. I've been using it for almost three weeks now and am very happy with the results."

"I suffer from terribly dry, flaky skin, which is prone to redness. A couple of days after using this, and there's a marked improvement."

BY MOISTURISING DAILY (GIVING YOUR SKIN A BOOST OF HYDRATION) (THUS PROVIDING AMPLE HYDRATION), YOU WILL ACHIEVE GLOWING SKIN
Our second tip may seem too simple — apply moisturiser daily. Seems easy, right? But are you doing it?
Do you consistently use a shea butter moisturiser at least once a day? Most importantly, you should always apply moisturiser after you cleanse your face. Because moisturising freshly cleansed skin helps to lock in moisture and prevent the skin from drying out. As a result, this promotes supple and glowing skin.
As we age and experience environmental stressors, our skin becomes less capable to retain its natural moisture and needs a little helping hand.


But properly using a shea butter-based moisturizer can lead to glowing skin and other benefits such as:

• Improved skin elasticity
• Skin detoxing
• Balanced oiliness
• Reduced wrinkles
• Improved skin immunity
So, what's an effective moisturising routine to achieve glowing skin?


We recommend that you aim for the classic morning or night-time routine (or do both if you feel like your skin needs it).

1. Start by cleansing your skin with an all-natural facial cleanser
2. Gently towel dry your face
3. Then generously apply our Get Up & Go Cream
And that's it. Do this at least once a day — every day — and you'll have healthy-looking, softer, smoother skin in no time.
We know you're tired of waking up in the morning with dull-looking skin. More than that, you feel like everyone else, apart from yourself, has radiant and glowing skin. However, you are incredibly close to achieving the skin of your dreams. And you know our top tips for attaining deeply hydrated & nourished that is glowing.
They are:

1. Use a high-quality shea butter moisturizer (we suggest our Get Up & Go Cream)
2. Apply daily and consistently
Plus, the sooner you get started using our Get Up & Go (Day Defence) Cream in your facial routine, the sooner you'll have radiant glowing skin.
P.S. If you're in the UK, enjoy FREE shipping & samples on all orders over £20