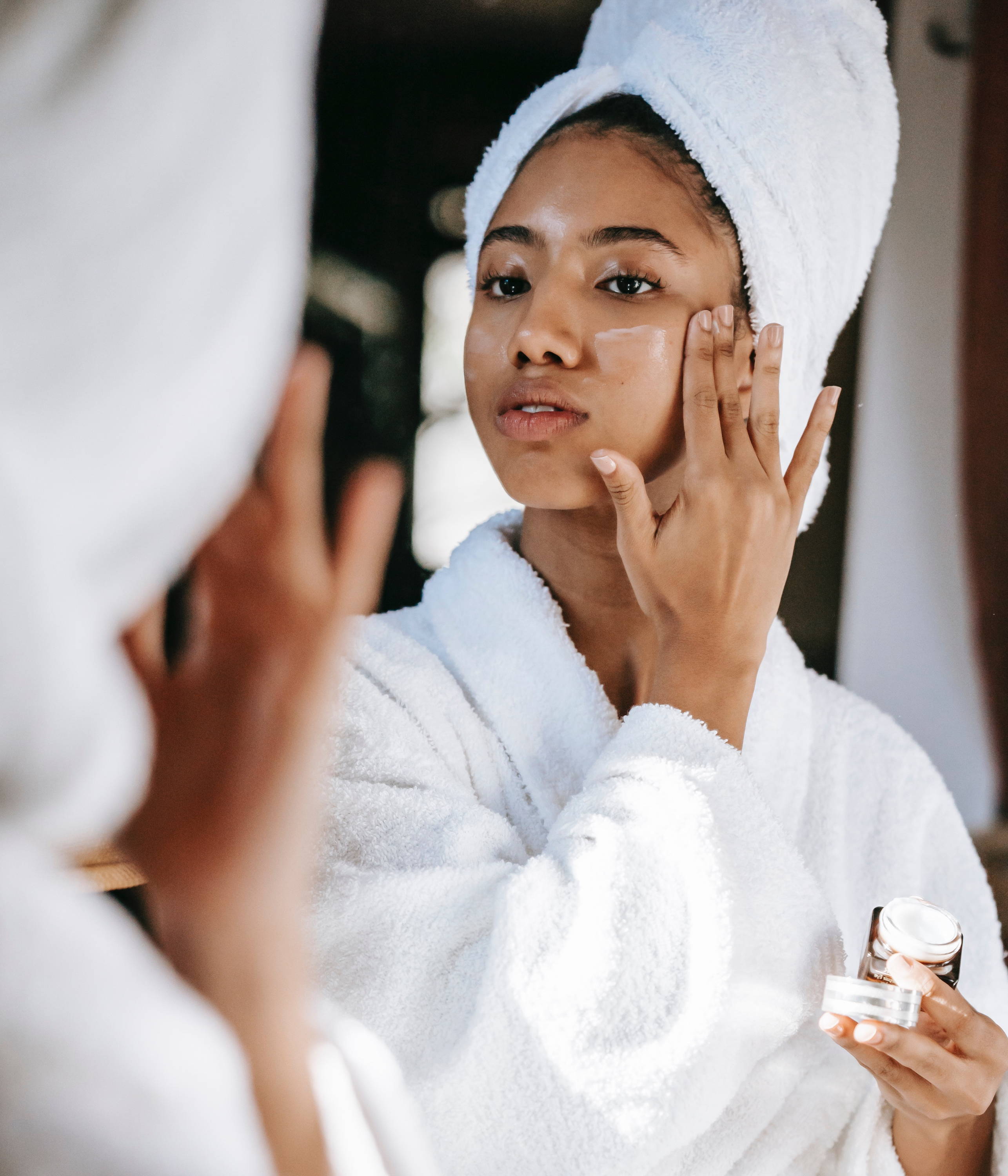 THE CORRECT ORDER TO APPLY YOUR SKINCARE
Today, there are hundreds of skincare products on the market. From anti-ageing eye creams that claim to leave you with the brightest eyes in the room to serums, retinol products and acids all designed to combat different issues, the world of skincare can be somewhat of a minefield. It's important to keep your skincare routine simple and only use extra elements when your skin really needs it.
Working out what each product means is a challenge in itself, let alone figuring out which order to apply the products and how. You may not think that the order in which you apply skincare products is important, but trust us when we tell you it is. According to the experts, applying products in the correct order ensures your skin receives the full benefit of each product and you get the very best results from your skincare regimen.
If you're wondering what product goes on top of what or how to correctly layer your skincare products, don't worry - we're here to help. The most important thing to keep in mind is that products with the thinnest consistency should always be applied to the skin first, followed by the thickest.
Cleanser should always be applied first to remove any dirt or makeup from the day before. Try to ditch the makeup wipes; they can irritate and leave a layer of harsh residue on your skin. Instead, opt for a light, refreshing cleanser, such as our Miracle Cleanser, which is packed full of nutrient-rich ingredients. A Micellar Water is also a key step during cleansing to ensure impurities and make-up are removed.

A toner should always follow your cleanser. It's important to note each type of toner is designed to combat a different skin issue, so it's essential you find one that works for you.
Our gentle Refreshing Toner with cucumber extract and rose water is the perfect starter toner to try. If you have an oily-based skin type, our Purifying Toner is the perfect match.
Next, it's time for a treatment, which we recommend twice a week. It's a great idea to use a treat to target a specific skincare issue such as hydration or dull skin. A perfect example is n the Winter months, the air becomes drier and so does your skin which means more hydration is needed. Our Rescue Revive Sheet Masks is a great way to give your skin a targeted pick-me-up all year round. If you're looking for a treatment that brightens and gently exfoliates, try our award-winning Illuminating Mask.
The skin under your eyes is the thinnest on your face, so it's important to give this area some TLC each day. Eye care is usually thinner than moisturisers, so it's important they go on before you moisturise. Remember, the skin under your eyes is thin and sensitive, so it's crucial you choose a gentle eye gel, like our Hydrating Eye Gel with sodium hyaluronate and aloe vera, that's kind to skin. For a quick eye treatment, the Rescue Revive Eye Mask will help to visibly brighten and hydrate eyes instantly.
A moisturiser infuses your skin with hydration and helps secure all the products underneath that you have applied so far. It also works to help protect skin from external aggressors. Even if you have oily skin, it's important you moisturise every day to keep your skin hydrated fresh. Remember, make this last step in your skincare routine count!
When moisturising, it's essential that you find a product best suited to your skin type. Dry skin won't benefit from gel moisturisers such as our Hydra Active Gel as much as oily skin will, and oily skin won't benefit from a rich cream such as our Nourishing Cream the way dry skin will. Similarly, a day cream works differently to a night cream, that's why we have created the Rest & Renew Night Cream to gently exfoliate and promote a renewed complexion.
NATURAL, AFFORDABLE SKINCARE
At Herbal Essentials, all of our products contain carefully selected botanical ingredients and essential oils that are recognised for their specific benefits to the skin and deeply rooted in Ayurvedic principles. We believe your skin should only have the best, which is why each and every one of our products is packed full of nutrient-rich ingredients.